Since its first flight in November 1995, the airline has grown from a Luton base offering two routes from Luton to Glasgow and Edinburgh, served by two Boeing 737 aircraft, to one that offers 102 routes from 37 European airports, operating 67 aircraft (April 2003). The phenomenal growth of easyJet was boosted by its merger with of Go-fly in August 2002, making the combined company Europe's Number 1 low cost airline.
In October 2002, the airline signed a deal to purchase 120 Airbus aircraft which will faciliate the airline's ongoing growth strategy.
During the financial year to 30 September 2002, the company reported pre-tax profits of £71.6 million on a turnover of £552 million and carried 11.4 million passengers.
easyJet keeps costs low by eliminating the unnecessary costs and 'frills' which characterise 'traditional' airlines.
easyJet favours an informal company culture with a very flat management structure, which eliminates unnecessary and wasteful layers of management. All office-based employees are encouraged to dress casually. Ties are banned - except for pilots! Remote working and 'hot-desking' have been characteristics of easyJet since the beginning.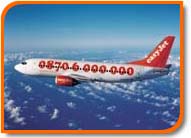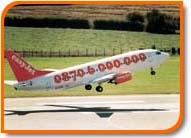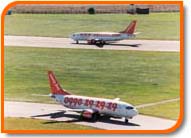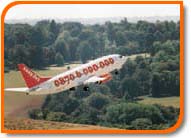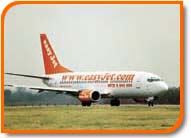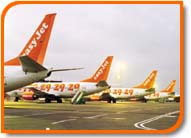 Information obtained from easyJet. For more information, please contact the airline or surf to their website at the Homepage address below.